Java Scrabble
Jabble contains a very strong dictionary (OSW4), 143,258 words. I'm now using the LeXpert dictionary format.
It has some basic rack balancing strategy, and its main limitation is that it plays far too well.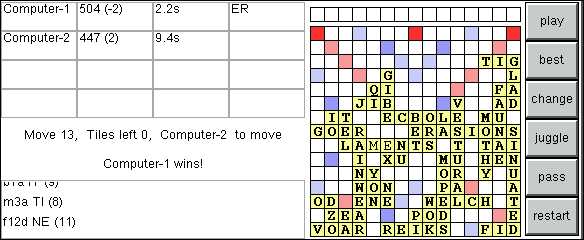 Running Java on the Psion is memory hungry. You'll need about 4M free on the C drive to run it,
and you'll need to install the Java Runtime Environment from the Psion site.
It should work on 5mx, series 7 and Netbook. (Maybe the Revo+)
Jabble is also available as a generic Java 1.1 application suitable for PC and Unix use.
---
This page was last updated by Dom Cobley on
10/05/2001